I am so excited about this trick I learned for preventing card fraud and I need to share it - have you ever wished you knew that your card information had been stolen just a few seconds after the first fraudulent transaction? Of course you have! Well, Logix has a Card Manager app that's been strutting its stuff on their homepage for the last month. What I really want to know is - are you using it? If no, why not?
In all honesty, I just recently signed up for Logix Card Manager myself. I had no excuses. The app is completely 100% off – that is, free! And, I work here. I'm not quite sure what took me so long to sign up. I was amped when I heard we were going to offer the app, excited when it was implemented, and thrilled once I started hearing about how great it is. With the holidays coming up and my sudden spike in online purchases (I heart BIG sales!), I knew now was the perfect time to get to know Card Manager.
Sometimes, One Reason is not Enough
According to the Federal Reserve Bank, general-purpose cards (debit, credit, and prepaid) accounted for an estimated $6.1 billion in unauthorized transactions in 2012. Knowing firsthand the inconvenience that comes with experiencing card fraud and not wanting the fraudsters to get away with my money, the Logix Card Manager gave me the power to do something I never had before – block and unblock my cards, whenever I want. Since I won't consider giving up my plastic (and, I shouldn't have to) that feature will be most handy for me.
Sounds Perfect - Sign Me Up!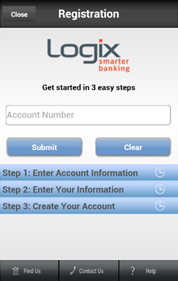 I am so glad you are on board! Sign yourself up – it is that easy and if you're like my little brother who can text and skateboard without looking at his phone, then this will really be a breeze for you. First things first, download our free* app from the iTunes App Store or Google Play. The following message will display during download - "Giving customers full control of their card payments." Yes! After downloading, simply register as a New User. You'll be asked to enter in your Logix account number and last four of your social security number. Once complete, a security token will be emailed to the email address associated with your Logix account and a short window of time is given to retrieve the token and enter it into the Card Manager app. After entering in your token, there are just two more steps to complete: Create a User Name and come up with a password. Voila! You now have total control of your card. You're welcome!
Using Card Manager to Prevent Fraud
There are several ways to creatively use the Card Manager app: monitor recent purchases, set up personal alerts based on criteria selected by you, transfer money between savings and checking, search for ATMs based on GPS location...
The bonus for me as I mentioned earlier (and real motivation for signing up for Card Manager) is the ability to turn my cards on and off to aide in preventing card fraud. Once logged into Card Manager, the cards on my account are displayed on the dashboard and a green power button is just to the right of each of them. Personally, I use my debit card more than my credit card and prefer to use my credit card only when I absolutely need it. With that being said, I simply pressed the green power button next to my credit card, confirmed that I did indeed want my card turned off and that was it! The power button was turned to red and I now have peace of mind that my credit card will not be used without my authorization. In addition, I receive alerts every time a purchase is made with my debit card. I comfortably know that at the first sign of an unknown transaction, I'll be able to just as easily turn that card off to prevent further unauthorized purchases. Just like that! Because, let's be honest, who needs any extra unwelcome chaos in their life? If you haven't already done so, I encourage you to sign up and start relishing in the control of your bank cards and prevention of fraud.


We're Curious to Know: What do you want Logix Card Manager to do for you?
*Mobile service provider data rates and fees may apply.