If you're ready to simplify your life, consider using a digital wallet instead of a physical wallet. A digital wallet is an app that lets you keep your credit and debit cards on your smart device: choose from Apple Pay®, Google Pay™, or Samsung Pay.
You can expect the same trustworthy service from Logix when using a digital wallet of your choice, plus you will enjoy all the rewards, benefits, and protections your Logix Mastercard credit and debit cards offer.
Make Purchases Quickly and Safely
When you shop with a digital wallet, your information is secure and transactions are encrypted. Instead of using your actual card number at checkout, a unique Device Account Number is assigned. You can add another layer of security by requiring a PIN, fingerprint, or other authenticator for your device.
Shopping and saving is simplified when you keep loyalty cards, digital coupons, and gift cards in your digital wallet. Enjoy a faster check out experience in stores, online, and within apps.
In stores: Digital wallets use near-field communication technology so there's no waiting for the chip reader, swiping, or signing. Find the contactless reader or the logo of your digital wallet app. Then unlock your device, hold it near the payment terminal, and follow the prompts.

Online: You will no longer need to enter your card number or shipping address when you shop online. The digital wallet safely stores all your personal information.

Within apps: With just a touch, you can order a meal, buy your pet's favorite treats, or hail a ride.
Easy Setup
In just a few steps, you can be on your way to a great shopping experience. First, check to see if a digital wallet app is installed on your device. If not, visit our Digital Wallets page for more information.
Choose the app that's right for you and follow the step-by-step instructions. If you need help or have any questions, contact us online or by phone.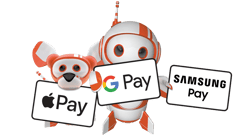 ------------------------------
Ready to Enjoy More? Check out our SmartViews Newsletter
------------------------------
*Your ability to use Apple Pay, Samsung Pay, or Google Pay may not be available at all locations where your Logix card is accepted. Apple Pay is a trademark of Apple Inc. Google Pay is a trademark of Google LLC. Samsung Pay is a trademark of Samsung Electronics Co., Ltd. Logix Federal Credit Union is not affiliated with and is a separate entity from Apple Inc., Samsung Electronics Co. Ltd., and Google LLC. Mastercard is a registered trademark, and the circles design is a trademark of Mastercard International Incorporated.