Dinner and a show can hit the cost spectrum on the high end, low end or no end. Living in Los Angeles makes for a variety of meal and theater experiences. Earlier this year, we wanted to see Angela Lansbury in "Blithe Spirit." Side note – She's 90 years old. And, still actively acting and performing. Wow!
In an effort to see the show on a dime, I spent time looking for discounted tickets. You'll usually find good offers for shows on Tuesdays, Wednesdays and Sundays. It's more challenging for theaters to fill seats on those days. Goldstar.com is an outstanding resource if you're looking to save some dough and still get decent seats; they are able to offer tickets at a discount, with a service charge. And, I've been able to find more than just theater tickets there. (Dodger fans – check it out.)
So, I secured tickets there for a Sunday evening, and then looked at area restaurants to get a bite before heading to the show. We planned to go to The Border Grill in Downtown L.A. for happy hour. We enjoyed several small plates for just $30 for two of us. That included tax and tip. We even caught part of an NFL game. Such a deal! The restaurant had a complimentary shuttle service to the theater, so we hopped on. I tipped the driver well to make sure he would get us on the way back. (Between the dollars already saved, I felt comfortable making sure the driver had a cut of my savings, and he provided superior service.)
So, we returned to our car in the restaurant's parking structure. With the validation, the cost to park was only $3. Have you parked in Downtown L.A. lately? That's a bargain.
More recently, I went to see "Newsies." Rather than take a trip to New York City, I waited for the show to come to me. And, already, that was a savings.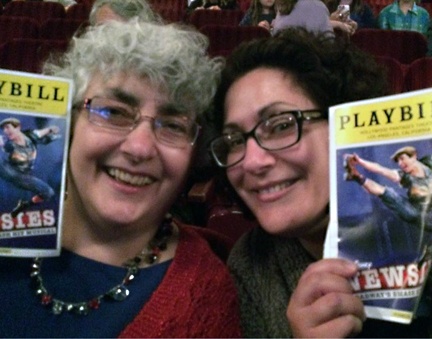 Unfortunately, I wasn't able to get a deal on seats because the available dates conflicted with my schedule. So, I picked closing night and paid full price. Cast members' relatives and friends were in the audience that night – you could hear them applaud for their favorites.
To maintain the budget, we had a bite at home before we got on the train. It was about $2 and change each way. And, the exit of the station was right in front of the Hollywood Pantages. Not having to pay for fuel and parking was easy on the pocket. Although we didn't experience the dinner portion out on the town, the performance made up for it. The scenes were spectacular and the actors were phenomenal.
Fortunately, in L.A. you can see shows in small theaters all over, and many are price friendly. One of my favorites is the El Portal Theatre in North Hollywood, and another is the Falcon Theatre. Sometimes, you'll see their shows on discounted websites, but their prices can be super affordable.
And, if you have no budget, and really want to take in a show or more, there are volunteer opportunities to be ushers at some theaters.
There are so many ways to experience a night out with or without food and theater entertainment. Just be creative and flexible and the options are endless.