What's better than payday? How about having access to your paycheck earlier than most everyone else. We process your direct deposit as soon as we get the notification from your employer, which means an early payday for many members - sometimes two days earlier than usual, depending on your employer. Early payday is one of the many account perks Logix members have always had. We never even advertised it because, frankly, it is the right thing to do! But now that a whole slew of financial institutions are adding this as a perk and talking about it like it is something special, or even worth paying extra for, we wanted to let you know that this is a benefit of your Logix checking account to enjoy, just like the many other built-in luxuries that other financial institutions seem to think are revolutionary.
It Begins with Direct Deposit
Direct Deposit is a common way of getting paid these days. Instead of physical paychecks, payroll funds are electronically deposited into employee bank accounts, such as Checking or Savings. Direct Deposit alleviates the pain points of rushing to your financial institution or an ATM to make deposits before bills are due as well as the worry of losing the checks or worse, someone stealing them. For these reasons, Direct Deposit is more convenient and safer than paper paychecks.
Plus, we make Direct Deposit even sweeter by giving members access to their hard-earned funds early!
How Does Early Payday Work?
Funds flow in and out of the Federal Reserve Bank electronically through the automated clearinghouse system (ACH). When your employer processes payroll, funds are either paid to employees using a traditional paycheck or, as mentioned earlier, electronically by Direct Deposit to their employees' checking or savings accounts. In the latter, an electronic file is sent to the financial institution where the Direct Deposit will occur. This file includes information such as the employee name, their account number, and the effective date of when the deposit will occur. At this point, the financial institution hasn't yet received the funds for the deposit. Instead, they've essentially been given a notification that funds will come in on the date specified in the electronic file and are not required to post direct deposits to accounts until funds are received.
At Logix, we've always made the decision to post direct deposits to member accounts at the earliest processing time that we can on our side, even when we've only received the deposit notification. Why? Because it's the right thing to do for our members.
Speaking of our members, here's what they're saying about getting paid early: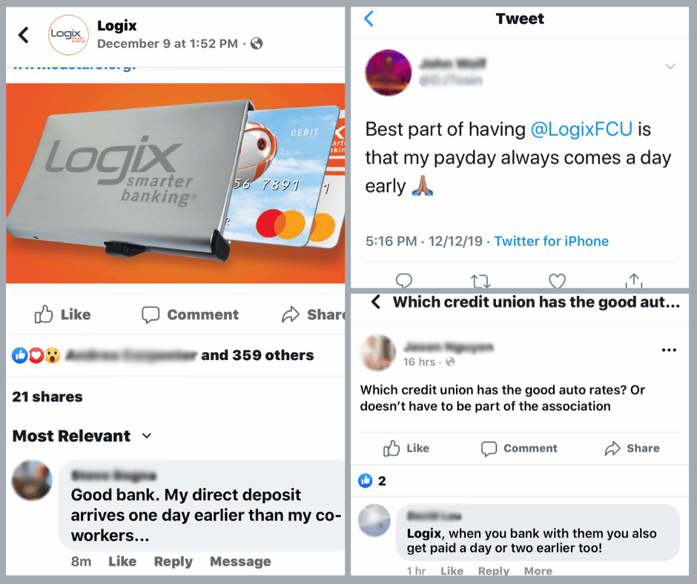 How to Set-Up Direct Deposit
To set up Direct Deposit, your employer will need the routing and account numbers for the checking or savings account you plan to deposit the funds into. They may request that you supply them with a "voided" physical check, if you'd like the deposit to go into a checking account. The check includes the routing and account numbers needed to process the direct deposit. If a voided check is not requested, the Logix routing number and your unique account numbers can be found by logging into your Logix Online Banking account or the Mobile Banking App. For reference, the Logix routing number is always 322274187. Once direct deposit is set up with your employer, it can take one to two pay cycles for your paychecks to begin processing electronically to your account.
While an early payday is a star on its own, check out these additional benefits of having a Logix Checking Account:
World class Mobile Banking App where you can make an e-Deposit, pay your bills, add travel notifications, block and unblock your debit or credit cards, and more.
Access to 30,000 surcharge-free

CO-OP ATMs

.
View online images of cleared checks.
Automatic enrollment in

Relationship Rewards

when your account balances reach one of three levels, unlocking even greater benefits including increased dividends, unlimited free ATM transactions and non-network ATM fee rebates, free checks, and more!
Debit card rewards, where you'll earn 1 point for every 2 dollars in qualifying purchases. Please note that you must enroll your card to receive this benefit.
We offer account perks that aim to simplify member lives while helping them thrive. If we can help you set up Direct Deposit or answer any questions about our other products or services, give us a call at (800) 328-5328, come by a Logix branch, or send us a message on lfcu.com, Facebook, or Twitter. It's our pleasure to serve you.
-------------------------
* We process Direct Deposits as soon as we get notification from your employer, so when you ask them to set up your pay as a Direct Deposit to your Logix account those funds could be available up to two days earlier than your standard payday date, depending on your employer.