John Muir Middle School, in partnership with Logix Federal Credit Union, collected 3,500 non-perishable items for Burbank Temporary Aid Center just before the school closed on March 13. The City of Burbank's Public Works picked up these items on March 19 for delivery to BTAC.
The items were collected during a food drive that was originally scheduled to coincide with John Muir Middle School's Service Day, which was cancelled.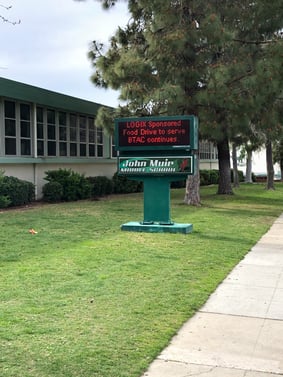 This drive came at a time when the community is in great need because of the Coronavirus (COVID-19). The staff, teachers, parents and students are proud to have participated in this opportunity to make a difference – especially in the wake of these unusual circumstances.
"We are proud of our staff, teachers, parents and students – they truly care about the community. We host this drive every other year and they continue to give back; you can tell it's from the heart," Principal Greg Miller said. "Given the situation we're in, we are fortunate to be able to contribute in this way at this time. Those who are in need will certainly receive this food. Having the support of Logix and the City of Burbank's Public Works demonstrates how well our community can come together and make a difference."
If the public would like to contribute to BTAC, they can receive donations via their website: www.thebtac.org/donate.
"At BTAC, we're thrilled to have this kind of support, especially right now. Everyone at John Muir (Middle School) has been supportive of our nonprofit with this drive," President and CEO Barbara Howell said. "I know the parents and students want to demonstrate their love for this community, and the administration has told us about the teachers and staff who have also given. It takes a village and Burbank residents take care of each other. Many thanks to all of them."
Logix Federal Credit Union and John Muir Middle School were paired in a partnership that started seven years ago by Principal Partners, sponsored by Burbank Business Partners.
The credit union has donated more than $325,000 to BTAC since 2007, and received the organization's Burbank Top Award for Citizenship in 2013.
(Photo courtesy of Principal Greg Miller)