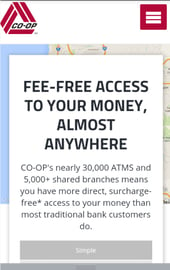 I went out of town over the weekend and it dawned on me just how much I rely on technology being available to me ALL OF THE TIME. An obvious piece of technology is a cell phone. We are all used to the fact that they are the portals to our daily quandaries. I have questions, they supply answers. Easy-peasy. Well, I used it for something I've never used before, despite always remembering that it was available to me, just waiting to be needed.

You see, because I hadn't completed my banking prior to leaving town (due to a million excuses that are not worth explaining), I had a check in hand to deposit and was in need of some cash for the weekend. Since my local credit union was not currently near me, it was important that I find another means of getting my transaction completed as conveniently as possible. Have you guys ever heard of the CO-OP App? This app is one of the ever increasing reasons why I love being a member of a credit union. If you happen to be a Logix member, it's even better because the features of this tool that I swoon over below can easily be attained from your very own Logix mobile banking app. Score!
What is CO-OP?
In case you're not familiar, let me give a brief background on what CO-OP means. CO-OP is basically the glue to all credit unions that are part of its network with the same goal in mind of supporting the needs of members. Back in 1981, when the LA Dodgers won the World Series (Woo-Hoo!) and MTV aired its first music video, a group of California credit unions came together to enhance services for members and broaden the amount of locations that could be used for these services. Since that time, Co-op has expanded its network credit unions to 3,500 that have over 5,000 branches nationwide, and just about 30,000 surcharge-free ATMs for members to use. Incredible!
What's So Unique about this App again?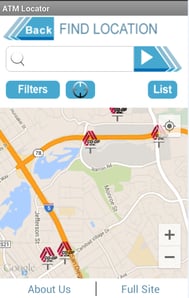 Going back to the app and why it was so helpful to me over the weekend was that it can be used to locate either a surcharge-free ATM or another credit union, where you are able to access your own credit union account. All you need to do is give the app a rough idea of where you are or allow it to find you using your cell phone's GPS. Once done, a list of nearby CUs and/or ATMs will be at your fingertips. Not only that, the app will let you know the basic services that are offered. In my own case, literally within a few seconds of typing in my location and checking off my preference for an ATM that also takes deposits, I was provided about 5 ATMs within my vicinity. And just like that, I was able to complete my credit union transaction without even a minor detour.
As I'm out and about, I can't wait to see what other ways this app can support my banking needs. To be a credit union member is to be backed up and guided by not only MY credit union, but so many others as well. What a relief!
We want to know: In what ways has the CO-OP network assisted you?