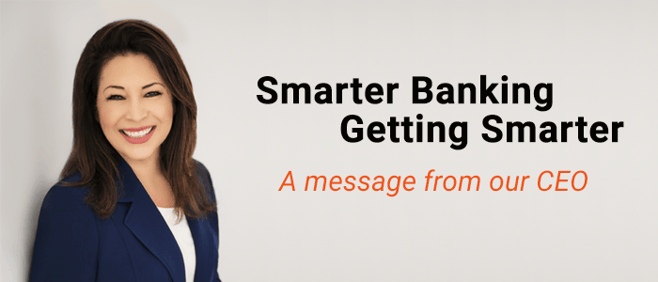 Dear Valued Members,
2020 has been an extraordinary year for Logix with many opportunities brought on by the challenges of the COVID-19 Pandemic. I'm proud of our employees and leadership team for demonstrating remarkable teamwork during this time and staying true to our mission: helping our members thrive. We deferred loan payments for over 16,000 members to help them make ends meet. We paid some of the highest deposit yields in the nation despite environmental rates hitting all-time lows. We scaled our operations to meet unprecedented mortgage demand, significantly reducing monthly mortgage payments for thousands of our members.
Despite tremendous change and an unexpected recession, we had a very successful year. We grew to more than 214,000 members, funded $2.7 billion in loans and grew deposits by $1.3 billion. Earnings were better than anticipated and Logix remains one of the healthiest and strongest financial institutions in the nation, ending the year with double the regulatory well-capitalized level required to protect your assets. Bauer Financial once again awarded us a 5-Star rating for financial strength. As a member and owner of this credit union, we hope you're proud of our success.
The challenges we faced in 2020 led us to find new ways to meet our members' emerging needs. We refer to our renewed focus as "Smarter Banking Getting Smarter!"
Improved Digital Access
Our advanced data center at our new headquarters, opening in 2021, is designed to provide system speed, reliability, and the data security that our members expect from us. It promotes smooth online and in-person experiences for members and improved productivity for employees. It is the foundation necessary for building a robust digital future so we can be available when and where our members need us with experiences that are easy and friction-free.
New self-service features in our online and mobile banking applications will boost convenience. Live chat will be available in the mobile app, making it easy for members to connect with our contact center from anywhere. We heard our business banking members loud and clear and are pleased to announce that our Online Banking platform now includes the business friendly functionality desired, including advanced access management, transaction downloads to QuickBooks, and business-focused transfers and payments.
In the second half of 2021, we will offer Zelle, a convenient way to send and receive money. We will also issue cards digitally, making them immediately available for use in Apple Pay, Samsung Pay, and Google Pay. We will have improved functionality for easy fraud and dispute claim submission and faster resolution.
A Better Loan Experience
Our new lending platform will be available in the first quarter making the mortgage refinance and home purchase experiences more delightful. Members can check on the status of their loan anytime and will eventually have the ability to complete the mortgage process digitally. Low-cost mortgage products intended to simplify and accelerate the refinance process will be available, saving members even more on their mortgage payments.
Member Financial Wellness
We want our members to feel financially well, therefore we will provide more financial education and reinforce our role as our members' trusted financial advisor in our member interactions, products, services, and communications.
We realize that the road to economic recovery may be long. Please reach out to us if you need assistance. We have team members standing by to advise you of your options.
Thank you for your continued trust in Logix and best wishes for a happy, healthy, and prosperous 2021!
Sincerely



Ana E. Fonseca
President and CEO
--------------------
*This article has been adjusted from its original form to include a modified launch date for the Zelle P2P payments service.