If you're looking to hit the right financial notes in a market with steadily increasing rates, a bump rate certificate can be a great addition to your savings plan. Just like you might turn up the volume on your favorite song, this particular type of certificate offers investors the opportunity to "bump up" their earnings.
Traditionally, a certificate account offers a fixed rate over a specified term, and there are penalties for withdrawing funds early. Upon maturity, the investor can choose to access or reinvest the funds. The differentiating benefit of a bump rate certificate is that besides offering a higher rate, it allows you to increase your investment's rate while it continues to mature. Certificate accounts are also one of the safest savings instruments in the market because they ensure returns without risk, and that extends to bump rate certificates. When opened at a credit union, these deposit accounts are federally insured up to $250,000 by the National Credit Union Administration.
So, how does a bump rate certificate work exactly? Let's say you have a 12-Month Bump Rate Certificate at 2.30% APY. After only a few months, market rates go up and you realize that you could have taken advantage of a new offer at 4.30% APY 12-Month Bump Rate Certificate if you had waited before investing. Well, with a bump rate certificate, you can raise the rate. This certificate type allows you a one-time "bump" to the current rate of the bump rate certificate for the remaining term of your certificate. It's like getting a new remix of your favorite investment tool!
It's important to note that there might be a higher minimum required deposit in order to take advantage of some bump rate certificate offers. However, the potential gains over time can compensate for that initial larger deposit. Also, just like with a traditional certificate, breaking the term before maturity may result in a penalty, so it's ideal to let your investment play out until the end.
Whether you're into jazz, hip-hop, or any other genre of music, a bump rate certificate can be the perfect tune to help create a financial soundtrack that's perfect for your savings style.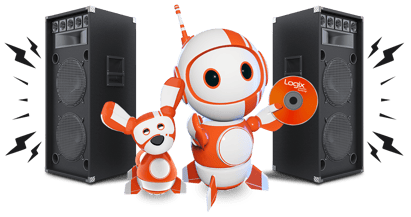 My new favorite financial tune!
Ready to take advantage of this financial hit? Simply sign into your Online Banking to get started or visit your nearest branch.
Not a member yet? Apply for a Logix membership at your nearest branch or online.
-------------------------
*Please contact Logix at (800) 328-5328 or visit www.lfcu.com if you have any questions about this topic or would like to consider opening an account.
APY means Annual Percentage Yield.
Logix Smarter Banking is a registered trademark of Logix Federal Credit Union.
Waiver of certificate early withdrawal penalty: Logix will waive your early withdrawal penalty if you decide you want to invest funds from your Certificate in the market. Restrictions apply. Click here for details.