The scenarios below are all too real and common. Unfortunately, check scams are still a popular way for fraudsters to win and their victims to lose. Often times that loss becomes more than just about money.
Read through some of the basic methods used to lure in prey and the answers to some frequently asked questions. Please spread the word by sharing this knowledge with your family, friends and co-workers. The more we talk about check scams, the more likely we are to turn up our noses at the first foul stench of them.
Today is your lucky day! Or, is it?
You receive a congratulatory letter in the mail – you have just won several thousand, perhaps millions of dollars in a lottery! You can't recall playing this particular lottery, but there is a check included with your name on it and a phone number to call to activate your winnings. After calling and receiving additional verbal confirmation that you won, you are provided instructions to deposit the enclosed check and told a portion of the funds need to be sent to pay for processing fees. You may keep the unsent amount and can expect an additional check with the rest of your winnings. A few days later, however, you find out from your financial institution that the check was counterfeit and has returned on your account.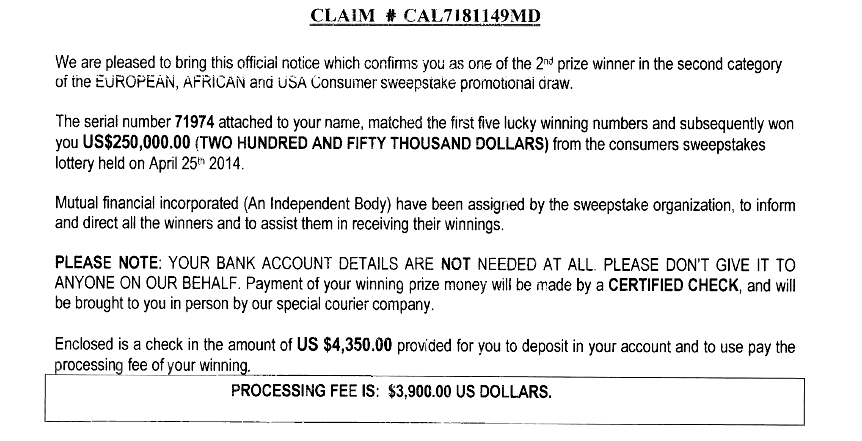 You're the right person for the job!
While job hunting, you come across a posting on Craigslist (or Monster, LinkedIn, or other career posting website). The position sounds straight forward: an assistant, mystery shopper, auto wrap recipient, etc. and you are encouraged to apply with your basic information and may be asked to include your resume. After receiving good news that you got the job, you receive an email with further instructions. You are told that you will receive your first week's pay in advance and will receive a check over the dollar amount of your pay. The excess funds are to be sent somewhere else for the purposes of purchasing goods or services required for your job. Similar to the above lottery scam, the check eventually returns on your account and you end up with no pay, no job, and a hefty loss from the amount you sent out.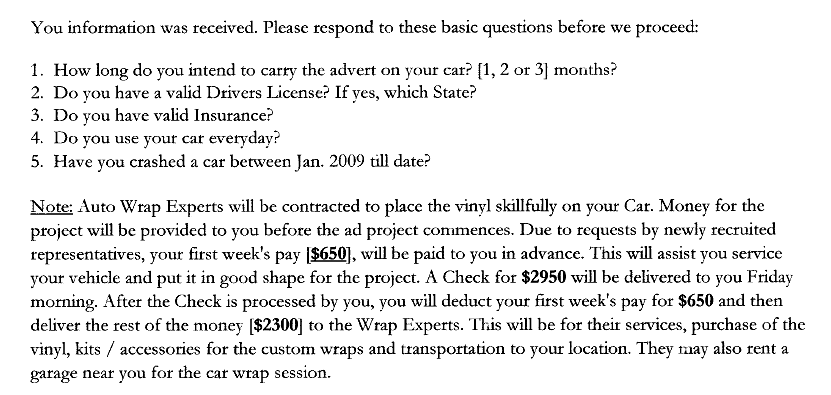 Couch for Sale!
Craigslist is a convenient way to sell merchandise and goods. It's easy to create a post, include a picture of your bike, couch or other item, apply a price and list for free. You receive an email in response to your post from someone who is eager to buy what you're selling, but isn't conveniently located to you to pick it up. Instead, the potential buyer offers to mail you a check for the price of the item as well as an excess amount for you to send to a shipping agent who will take care of getting the item to the buyer. It sounds pretty easy! The end result is the same as the above scenarios. The check returns on your account. Now, you're out money and you still have that merchandise you are trying to get rid of.
Above are just a few examples of ways fraudsters are trying to get your money, your kid's money, or your friend's. One thing they all have in common is a request to send money elsewhere. That is one of the biggest red flags of check scams! It's important to be aware and proactive as we have several opportunities to stop this type of fraud from growing.
The following are answers to some regularly asked questions If you have additional thoughts, please include those in the comment section at the bottom of this post.
Check Scam FAQs
What are some common ways we are asked to send money?

Answer
Western Union is still a popular method fraudsters use to have you send them money. Recently, however, they are also incorporating the use of prepaid cards like Green Dot, Metabank, and Bancorp to name a few.
How can I report a check scam attempt?

Answer
The Federal Trade Commission's website has a great area to report scam attempts. After selecting a scam category and answering a few questions about the attempt (providing personal information is optional) you will have given them important content that is used to detect fraudulent patterns which can lead to further investigations.
I think I received one of these checks in the mail. What do I do?

Answer
Hold off on depositing the item and trust your gut instincts. Confirming the validity of the check is as easy as locating the maker's phone number online. The maker is located in the top left corner of the check and is often times a legitimate business. Let the company know you received the item and would like to verify issuance. The employee will be able to tell you "yes" or "no" right away or will find the appropriate person to do so. Another option is to take the check, along with any letters or envelopes that were sent along with it, to your financial institution. Advise your banker of your concerns and they will also be able to help verify the item.
I am a victim. Can I get my money back?

Answer
Depending on how soon you discovered that you were scammed, there may be a chance of recovering some of the funds. Contact the merchant used to send the money as soon as possible and report the fraud. The merchant will be able to tell you if they can stop the transfer, if the original transfer did not go through, or if it is too late.
I am a victim. I lost money. What next?

Answer
You are encouraged to file a report on the FTC's website as well as through your local law enforcement agency. If the loss resulted in a negative account balance at your financial institution, notify them immediately as you may be able to set up payment arrangements.
Remember, check scams succeed only if you let them. If it sounds too good to be true, it probably is. And, if you ever have any doubts about a check you received, speak up.
Find out more about fraud prevention at Logix by listening to this KPCC interview with our Manager of Fraud and Risk Management, Matt Overin.