Many members came to #creditunions chasing a great rate, not realizing that they are taking part in something larger and more important – especially during times of economic uncertainty. So, while every company that has your email address wrote you last week about the safety of your account, I'd like to tell you why the one from your credit union might be worth a second look.
After all, you own the place.
We are member owned
While all banking organizations say they are "here for you" during a crisis or market downturn, only credit unions can specify who that "you" really is. That's because all financial institutions are legally obligated to operate in the best interests of their owners. In the case of banks, that's the shareholder, who may or may not be a customer. In the case of credit unions – that's YOU! Every action your credit union takes, whether during a financial boom or a market downturn, is with the singular intent of helping you, our owners, thrive.
And we've got a long history of success in that mission.
We were born for this
Credit unions as we know them today in America grew in response to another market downturn: The Great Depression. In 1934, The Federal Credit Union Act was enacted "to make credit available and promote thrift through a national system of #not-for-profit, #cooperative credit unions." (Well, the hashtags weren't there in the original 1934 bill.) In other words, while many banking institutions are touting how strong they are in a downturn, credit unions owe their existence to it. In the words of Batman's Bane, we were "born in it, molded by it." Except, instead of using our resources to destroy communities like the Batman Villain, we use our financial resources to build them back up.
Which brings me to the next important thing you should know about credit unions, neighbor!
We bring communities together
As a credit union and a cooperative, we exist to serve a community. Our geographic footprint is comparatively small, which means we can focus our efforts on the unique needs of the individuals that make up our communities. Our employees are your neighbors, and they understand why the people in our local communities may experience a different mix of hardships, or require different financial solutions, than someone from urban New York or rural Kentucky. Your call to our contact center may be answered by the same person you borrowed a cup of brown sugar from last week. (You said borrow, but we know we ain't getting that back.) It's OK, though, because that's what neighbors do. We lend you brown sugar, and also money for auto loans. We give your kid a few bucks for Girl Scout Cookies, and give the local charities millions as well.

Even in the toughest of times.

And we come out stronger
Beginning long before the great depression, and in every market downturn, worldwide health crisis, political upheaval, and big-bank-blow-up since, credit unions have been there - steadfastly supporting their members though it all by lending when others won't or can't, and promoting financial health in the communities they serve.

So, when someone from your credit union thanks you for your business, we're not only thanking you for our livelihoods. (That too, though!) We're thanking you for being a part of something that supports our community financially and brings us all together when things are at their worst.
Thank you for your credit union membership!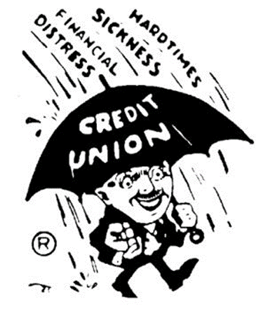 "Little Umbrella Man" - the original Credit Union mascot.
Since 1923, sheltering you from "hard times, sickness and financial distress."
-------------------------
Please contact Logix at (800) 328-5328 or visit

www.lfcu.com

if you have any questions about this topic or would like to consider opening an account.