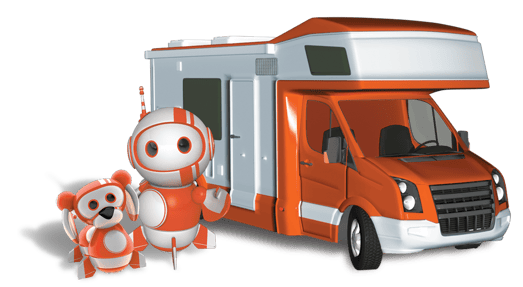 With the sun hanging out longer these days, the drive to start planning road trips revs up. Whether a weekend getaway, or week-long affair, there are plenty of destinations gearing up to make your itinerary a memorable one. Maybe you've hit up a few friends to join, told the kids they have no choice but to tag along, or decided on a road trip party-of-one; loading up your RV gets you one step closer to the open road. For RV destinations near or far, there will no doubt be plenty of hours and mileage on the road. Road trips, though exciting, can also be long…really long. Games are a great way to add delight to the adventure, while also preventing boredom from settling in. So, dust off the ol' RV and let's hit the road! Don't have an RV, but are warming up to the idea of one? Hitch a ride over here to learn about our RV loan options.
Whichever vehicle you choose, here are 5 affordable games to play with passengers while on the open road (sorry party-of-one, but who needs games when you are your best company):
Mad Libs - Hands down, the Number 1 road trip game for me. Mad Libs are fun, easy entertainment. You're provided the shell of a short story, and it's your responsibility to fill in the blanks with adjectives, nouns, verbs, emotions, seasons, and more! With several game platforms to choose from (booklets, board games, online apps, or your own masterpiece), the game is a breeze to pack along. You'll likely do A LOT of cry-laughing. Plus, you'll brush up on some of those buried grammar rules, which can be dually educational.

Price: Varies by platform, but most are less than $10


"I Spy…"- Another easy game to play. This game pops up in multiple environments (usually when there's a lot of waiting or standing in line involved), but it makes regular appearances on road trips. A guessing game where players take turns saying "I spy with my little eye…" and completing the sentence with something that they have just spotted. The other players try to figure out what the player "spied." Whether you spy the clouds, road markers, or the coffee maker in your RV, you will grow tired of the game long before you run out of items to spy on.

Price: Free


Alphabet Game – Don't you just love "free"? Similar to I Spy listed above, the Alphabet Game challenges players to call out items seen, but within the order of the Alphabet. For instance, say you just started the game, so are on the letter A (I hope). You spot an exit sign with an arrow pointing. You say "arrow", then move on to finding an item that starts with the letter B (like a truck hauling a "boat"). The first player to reach Z wins the game. Trust me. This game is a fun challenge as it gets to the X, Y, Zs. There aren't exactly a whole lot of zebras here in California.

Price: Zilch


20 Questions – This game sparks a lot of good conversation and you'll likely find yourself forgetting that you're playing a game at all. You've probably played a number of versions of it before. Prior to the road trip, come up with a set of 20 open-ended questions (questions that prompt in-depth answers as opposed to yes/no responses). For instance, "what has been your favorite road trip destination?" Each person has to answer the question and if everyone does, the conversation is likely great, and then really, everyone is a winner.

Price: Yes, Free


Name This Tune – Another great thing about road trips is that sometimes a game just happens. Name This Tune happened to be one of those games that occurred by accident while surfing music stations. If you and your passengers have an ear for music, have someone hand-pick songs or press shuffle on a music app. Play the first few seconds of a song. Next, invite players to guess what song is playing, gradually playing more hints of it, if needed. The first person to guess will surely win and have the honor of choosing the next song. Bragging rights encouraged.

Price: Free (♫ ♬ freeee fallin' ♫ ♬ )
With your RV loaded up and some road trip games pocketed, you are now ready to start your adventure! Enjoy this season with all the travel opportunities it brings, and get outdoors for a memorable drive.