Written by Kay K.
For the last few summers, I have been lucky enough to be a guest at a number of weddings. I've seen some with large wedding parties, chandeliers hanging from trees, and whiskey and cigar bars; others, were more intimate with hand-picked songs playing from a laptop, Mason jar mugs and plenty of 2 Buck Chuck. All had radiant brides and dapper grooms, invisible hearts floating late into the evening, and memories for each guest to pocket as souvenirs.
I haven't planned a wedding, but am always intrigued by the number of items that go into the big day. Would you like to see a sample checklist? I thought so – ladies and gentleman, get out your readers!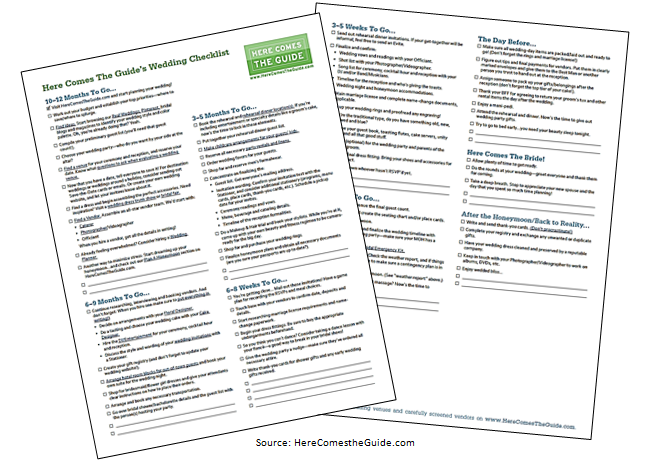 Thankfully, there are multitudes of wedding checklists to choose from as just thinking about a list of items that would need to be checked off makes my brain hurt. You'll notice that one of the first priorities of most of the checklists is …drum roll please…

Yep, a Wedding Budget. You must have known that I'd somehow be linking this post to money. Just as you wouldn't buy that cappuccino without first checking how much money you have in your wallet (ok, just kidding, I have done that and have yet to learn my lesson), you wouldn't plan an entire wedding by choosing the venue, entertainment, and cake without first knowing how much money you want to put into it. Having that very necessary conversation about a wedding budget will alleviate a huge wedding planning stressor.
There are endless amounts of resources online that help with the planning process and cost expectations. On March 12 of this year, the popular wedding website, The Knot, released their results from a 2014 wedding study. It revealed that Los Angeles residents spent an average of $37,317 on their wedding. You can read more about the results of their study here and if you plan to go big, take note of the average costs of specific checklist items to ensure you budget for them accordingly.
The Cost of Wedding website provides a neat little tool that assists with formulating a budget, called "Wedding Cost Estimator." This tool is catered to your situation (location, guests, entertainment, etc.). And, similar to The Knot, Cost of Wedding breaks down the average dollar amount spent on various items on your checklist, which is extremely useful when trying to decide how to distribute your dollars.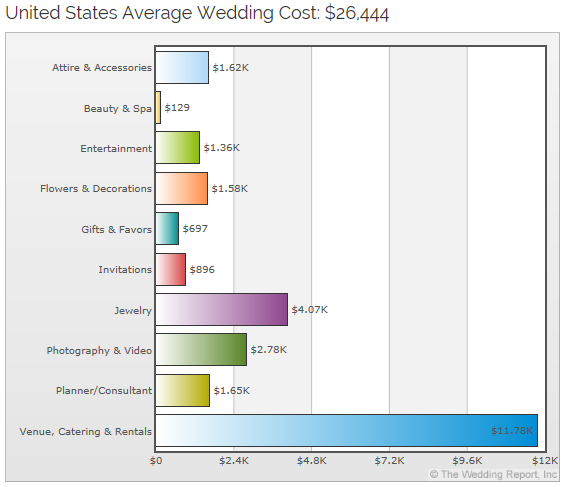 If you've identified areas where you want to save money, consider your options for a full or partial DIY wedding. Just Googling "Wedding DIY Pinterest" will yield an overwhelming 41,700,000 results in 0.42 seconds! If, however, you only want to DIY a part of the wedding, narrow down the search results by entering in specifics (as in DIY Boutonnieres) for still an extreme amount of options, but more quality results. Side note - did you know that Google was originally called Backrub? I just recently learned that fun fact. Maybe it'll come in handy during a trivia night. Go ahead, Google it. You're welcome.
Back to wedding budgets - have you witnessed this new wedding trend - a short and sweet ceremony and hours-long poppin' bubblin' reception party? Lately, the maximum ceremony times I've witnessed were only 10 minutes and more recently, I received a wedding reception-only invite as the marriage took place at a courthouse a few days earlier. The invitation welcomed guests to celebrate the couple's marriage with great food, dancing, and a photo booth. So much fun! Speaking of courthouse weddings, last month I was walking past my city's and there were two weddings taking place – with the wedding parties, selfies, limos and all! It's really no wonder considering the cost of a civil marriage ceremony in L.A. is only $25 while booking a venue can cost around $14K. That's just another example of couples choosing where they wish to save and splurge.
Tell us - will you go with a wedding planner or DIY the big day? If you've had a wedding, where did you choose to spend or save? Would you do anything differently? And now a toast - Whatever your wedding style and budget, may there be copious amounts of cheers, invisible hearts floating in the air and a blissful future with your better half.