Lockheed Aircraft Employees Federal Credit Union was officially chartered January 21, 1937. Several weeks ago, with that milestone anniversary rapidly approaching, I took a few minutes to again read the original charter application, signed by the 12 Lockheed employees who founded our institution.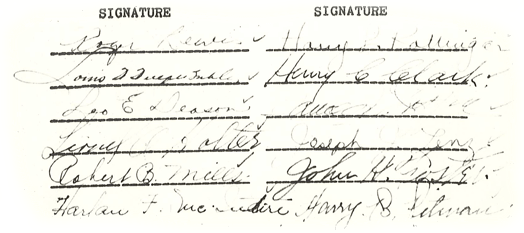 Unlike my own usually-scrawled signature, all 12 on that document are easily legible, as if the signers knew someone would, many decades hence, be interested in the names of those who took that momentous first step. I could almost sense the pride and excitement those founders must have felt that day – their actions would soon help their coworkers to save money with a fair rate of return and without fear of loss, as well as to access loans generally unavailable during the heart of the great depression.
I found myself wondering what those 12 founders would today think of the institution they launched in 1937. They would undoubtedly be awestruck by the size, complexity, and technology used by today's LFCU. Consider these points:
At the end of LFCU's first full year of operations, it had a few hundred members; and for the next 50 years, it grew exclusively with Lockheed employees and their family members. Today, we have more than 170,000 members, and the vast majority of new members now come from the general community.
At the end of that same first year, the Credit Union had only a few thousand dollars in assets. It took roughly 65 years for the asset base to reach $1 billion; and by the end of our 80th year, we expect to reach more than $5 billion.
A key metric for any business is Net Income. I'm certain those managing the Credit Union that first year must have been extremely pleased to report positive Net Income – the first in an unbroken string of 80 years (and counting) with a positive bottom line. In 2017 alone, we expect to generate net income of $68 million.
In 1937, the Credit Union had exactly "zero" employees. That's right – those who processed member transactions and managed the organization had full-time jobs with Lockheed, and did the work of the Credit Union when they had time. Today, we have a staff of over 600 financial services professionals.
With no employees, the Credit Union's facilities needs were modest in 1937. In fact, not only were there no branches until decades later, for many years, there wasn't even a dedicated office. Transactions were conducted from the Personnel Department (the precursor to Lockheed's "Human Resources" group). Today, we have 15 branches, with plans to add more, and a dedicated headquarters facility, with a new 12-acre headquarters campus now in development.
For a number of years after it began, the Credit Union offered two products – a savings account, and a personal loan (limited to $500 maximum, and requiring the approval of the "Credit Committee," which consisted of volunteer members, often from Finance, since it was assumed they knew how to make prudent financial decisions). The Credit Union didn't offer checking accounts and mortgages until the 1980's, and Money Market Accounts were not on the menu until the early 90's. Today, Logix is a full-service financial institution, with virtually every type of product and service available to members.
Technology in 1937 consisted of mechanical typewriters and adding machines. There was no such thing as a "copy machine," let alone a receipt printer or computer system to track transactions. Members used "passbooks" to record their savings and loan balances, and the Credit Union tallied balances using ledger paper and the aforementioned adding machines. Today, members demand instant access to their accounts, 24 hours per day, via mobile device or computer, from anywhere in the world.
From the list above, it's clear we are today significantly different than the small, volunteer-run, single-sponsor credit union that began in 1937. What hasn't changed for our members is peace of mind, knowing their funds are secure, that the Credit Union has their best interests in mind, and that they will obtain the best possible financial value we can offer.



Of course, LFCU is now different in other ways, as well – for one, "Lockheed" is no longer part of our name, although our association with that legendary company will always be a part of our family history. For another, our new headquarters will move our administrative staff out of the Burbank area, which has been the Credit Union's home for the last 80 years.
So, what would the founders think of the Credit Union they launched, and that ultimately became "Logix?" I'm confident they would be very proud of the many people who have made the Credit Union what it is today. We honor their legacy by staying true to the original mission – helping our members thrive – while adapting as needed to ensure the organization's safety and soundness.