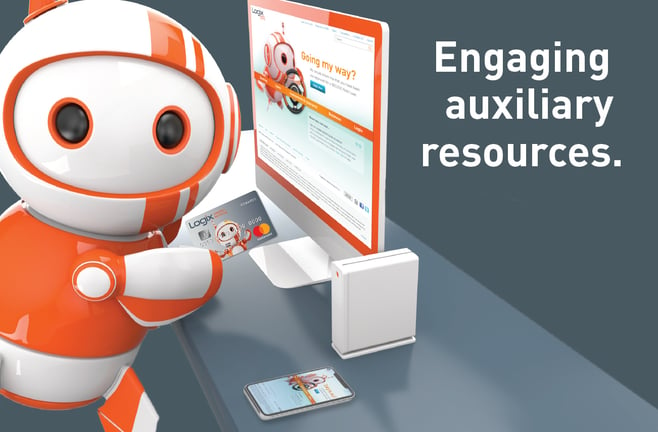 You know Logix service is great in-person, but when you can't make it to a branch, we've made it so you can do almost everything from the comfort of your own home or at your nearest free CO-OP ATM.

Here's a useful list of every non-branch option we've got to keep you banking smarter when you can't visit a branch:

LOGIX MOBILE APP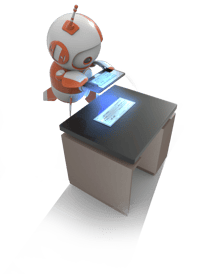 The new Logix Mobile App is highly rated on both iTunes and Google Play. It's easy to manage your Logix accounts using your mobile device from wherever you are. Use our mobile app to:


Deposit checks
Make loan payments
Pay bills
Make transfers between Logix accounts
View accounts and balances
Manage cards
View and redeem rewards points
Mobile service provider data rates and fees may apply. Not all members may be eligible for eDeposit check deposits; conditions apply – if you are not eligible the eDeposit feature will not be enabled. Daily check deposit limits apply.
ONLINE BANKING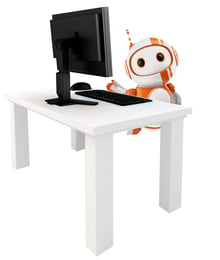 Online Banking is a safe, secure, and convenient way to bank from home. Sign in to Online Banking to:


Make loan payments
Apply for a loan
Pay bills
Make transfers between Logix accounts
Make transfers between Logix and accounts held elsewhere
File a dispute or fraud claim or report a lost card
View and redeem rewards points
CO-OP ATMs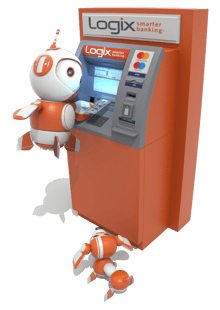 Visit your nearest of 30,000 CO-OP ATMs to perform the following transactions:

Withdraw cash
Deposit cash
Deposit checks
View balances
Transfer funds
Deposited funds may not be available for immediate withdrawal. Cash and check deposit capability may not be available at all CO-OP ATMs.
CONTACT CENTER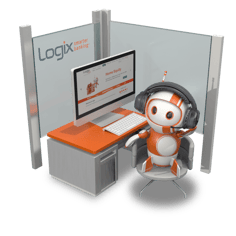 Please note that we are currently experiencing higher wait times

At Logix, you can reach a live person without getting lost in a list of menu options. We are available at the temporarily reduced hours of 7 a.m. to 7 p.m., Monday – Friday and 9 a.m. to 3 p.m. on Saturday. Call us to:

Make loan payments
Apply for a loan
Make a transfer between Logix accounts
File a dispute or fraud claim or report a lost card
Manage your Logix cards, including activating,
freezing/unfreezing, or requesting a new card.
Change the PIN on your Logix cards
Make an Account Maintenance request
To see how these services compare to each other, please view the chart below, which is also easily accessible from our website.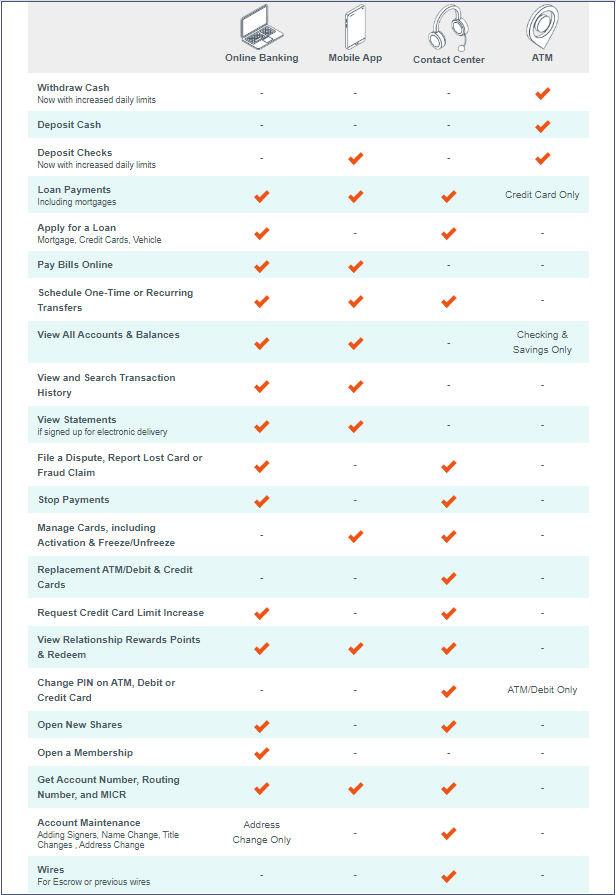 We hope that these virtual banking options make it easier for you to bank from home. If you have any questions regarding these services, we are here for you! Leave a comment below, DM us on Facebook, or send us a message.
If you need to visit a Logix branch for one of the following services, please note that some limitations on branch occupancy may apply. We also request that members maintain appropriate social distancing and wear a mask while in branches.
Available In-Branch Services:
Large Cash Withdrawals (greater than $1,500)
Logix Power of Attorneys
Non-Member Logix Check Cashing
New Trust and Fiduciary Accounts
Coin Deposit
New Wires (Escrow or Previous Wires can be handled by our call center)
Other Appointment Options
Click here to schedule your next appointment with a Financial Services Officer or Brokerage Financial Consultant.
For up-to-date information on branch hours and services, click here.