During this time of uncertainty, health care facilities are experiencing a shortage of personal protective equipment (PPE). Amid the coronavirus threat, our credit union team members wanted to show their commitment to healthcare workers and the Santa Clarita Valley community, donating 1,000 N95 masks to Henry Mayo Newhall Hospital, our local partner.
"We want to help protect our courageous healthcare workers, as they continue to provide service to the community," President and CEO Ana Fonseca said. "Supporting Henry Mayo Newhall Hospital with this donation of 1,000 N95 masks is important to us. We have been working with the hospital for about 20 years and we intend to continue to contribute in the ways that can keep them safe and able to deliver the best possible care."
Our Community Relations team reached out to the Henry Mayo Newhall Hospital Foundation last month to ask how we could share a gesture of gratitude. On March 27, it was our privilege to provide complimentary coffee to Henry Mayo employees.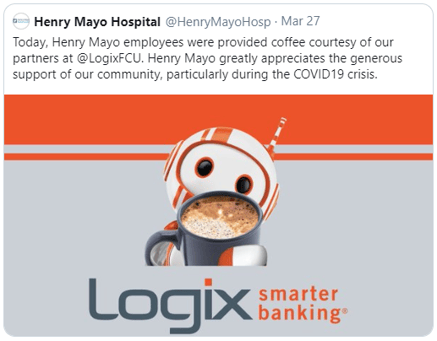 Source: @HenryMayoHosp
"Logix has been a President's Circle member during the last few years," said Marlee Lauffer, Foundation President and Vice President, Marketing and Communications for Henry Mayo. "We appreciate the dedication Logix continues to demonstrate. Our partnership provides value to the hospital, our employees and patients. We are truly grateful for their participation in helping make our facility successful, especially during this time."
In response to the pandemic, Logix is committed to keeping its employees, members and communities it serves, safe. For more information on the credit union's response to coronavirus, please visit www.lfcu.com/COVID19.