Logix Announces Member Loyalty Dividend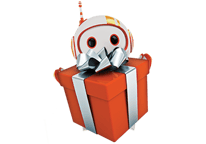 A Letter from Logix CEO, Dave Styler
2014 was another exceptional year for Logix Credit Union. A record number of new members joined Logix, and took advantage of the lowest auto loan and mortgage loan rates in our history to help generate a record amount of loan originations. Thousands of members deepened their savings relationships, opened checking accounts, and took advantage of our other promotions. We expanded our Saturday hours for the branches and Contact Center, and opened a new branch in Chatsworth on Mason Avenue. Members once again indicated their satisfaction with Logix by rating our service with the highest survey scores in our history, and by telling their peers about their positive experiences in-person and in hundreds of 5 star reviews across the web.
Based on our industry-leading net worth position, for the third consecutive year, our Board of Directors authorized payment of a Loyalty Dividend to qualifying members.
We hope this dividend demonstrates the unique advantage of membership in Logix Federal Credit Union (we share our success with those who make it possible), and serves as a reminder of our commitment to loyal members.
For more information about this Loyalty Dividend, please take a moment to read the FAQ section linked here. You may also give us a call at (800) 328-5328 or contact me directly at dstyler@lfcu.com or @logixfcu_ceo on Twitter.
We are pleased to share our success with loyal members and look forward to an exciting 2015.