Has your organization recently switched to a remote work environment? Is your dining room table now a desk? You are not alone.
COVID-19 thrust remote work to prominence, and the infrastructure investments made by companies as a result of this crisis may bring about a permanent shift in where we work.

One area that could see lasting impact from this shift is real estate. While no one knows what will happen to the real estate market, it is interesting to imagine how a change in where people work could change what they prioritize in considering a home. With this in mind, here are the top 10 ways remote work could change home buying and selling.
1. Offices could increase home value
As work from home has largely become the new norm, some are finding they have limited space to work. Since many homes were built before remote work was commonplace, dedicated home offices are in short supply, and homebuyers may pay a premium for them. New construction may also increasingly feature home office spaces.

2. Homes in commercial areas could drop in value
Several companies recently announced that their employees may telework indefinitely, and more are sure to follow. This could influence where someone purchases their next home or rental property. People may be less willing to pay the higher price per square foot near busy industrial areas if they do not require easy access to a company office.
3. Remote homes could become popular
Accordingly, if the need to physically go into the office diminishes, homes in remote areas could become more popular. With larger yards, lower cost per square foot, and reduced noise, homes in rural areas or on the outskirts of a busy city are appealing for those who desire work-life balance or a slower pace.
Did you know: Programs like Home Rewards, a Logix partner, can help you find the perfect property and get a rebate of up to 25% agent commissions? Learn more here.
4. People might escape to vacation homes
With a rise in remote work, daily schedules may change, and folks may have the freedom to work from wherever they want. A vacation home could become an occasional office of choice. A meeting beachside may become a reality and not just reserved for a fantasy virtual meeting background. If telework continues to increase, there could be a rise in vacation home purchases or primary residences in vacation destinations, and a corresponding rise in value of homes in those areas.
5.

Car payments may become home payments
As telework increases, commuting to work will decrease, and having a vehicle for every adult in a household may become unnecessary. Should that be the case, the money spent on car payments and car insurance could instead be put to work investing in a home.
6. Garages could become less desirable
If vehicle purchases decline nationwide and fewer vehicles are parked at home, garages could be used for another purpose, such as home office spaces, extra bedrooms, recreation rooms, or even removed in favor of larger outdoor spaces. In turn, there might be an increase in homebuyers looking for properties with smaller garages, converted garages, or no garages at all.
Did you know: A Home Equity Line of Credit can help convert a portion of your home to office space? Get a $10 Amazon.com Gift Card after you speak with us about a Home Equity Line of Credit.Use this link to get started.
7. Homes near retail centers could drop in popularity
Another possible effect of rising remote work could be declining retail center popularity and an increase in online shopping for necessities and luxury items. That, combined with the growing popularity of food and retail delivery services, could reduce the value of living near physical retail spaces.
8. Outdoor spaces may be repurposed
With lunch hours and breaks spent at home, and the elimination of a long commute, there will be extra time to tend to a yard and extra time to appreciate it. Investments in family and guest-friendly outdoor spaces may trend upward as people find more opportunities to enjoy them.
9. Resource efficient features could improve value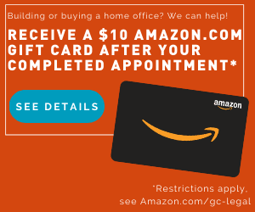 Extra time at home means extra expense. Use of air conditioning, home appliances, water and utilities could increase monthly bills. To counter the added expense, it may be worthwhile for homeowners to invest in energy-efficient appliances, plumbing fixtures, sprinkler systems, and/or solar panels. These upgrades could also improve your home's value.
10. Mobility rates could decline
It is pretty common to move several times during your adult life due to job changes, family, lifestyles, or even weather. As employers and households continue to accommodate remote work, relocation rates may decline meaning there will be fewer homes on the market, higher investments in existing properties, and potentially more fully paid-off mortgages.
Buying, selling or renovating? Logix is here to help!
Whether you're looking to buy a home, sell your existing home, or focus on a remodeling project, Logix Federal Credit Union is here to help! We offer a variety of mortgages for every need, and home equity loans and lines of credit. One additional way we help is through our Home Rewards program, a convenient solution for accessing everything you need to buy or sell a home with ease! This program works alongside a participating real estate agent to help you through every phase of the buying or selling process. By taking advantage of this amazing program, you will receive a 20% member rebate on a home purchase or a 25% member rebate on a home purchase and sale at closing!
Schedule your appointment now and you'll receive a $10 Amazon.com Gift Card after your completed appointment.*
*While supplies last. Following your appointment with a Logix representative, a $10 Amazon.com Gift Card will be sent electronically to the email address you provided with your appointment request.
Home Rewards Program. The Home Rewards program is made available to you through a relationship between Logix Federal Credit Union (hereafter, Logix) and Home Rewards Group, Inc. Cash Rewards are awarded by Home Rewards Group, Inc. to buyers and sellers who select and use a real estate agent in the Home Rewards network. Home buyers or sellers are not eligible for Cash Rewards if they use an agent outside this network. Using Logix for a mortgage loan is not a requirement to earn Cash Rewards. Cash Rewards amounts are dependent on the commissions paid to the agent. Logix may have specific rules on how your Cash Rewards will be paid out. Cash Rewards incentives are available in most states; however, are void where prohibited by law or by the lender. Please contact Logix to get details that may affect you. Rebate payment is made by Home Rewards Group Inc. and is credited to your benefit at the close of transaction. Purchase price must be greater than $150,000 after all credit adjustments. All rebates are subject to limitations, lender guidelines, and other requirements. Certain properties may not be eligible for rebates. Rebate is 20% for purchase or sale of a residential property. Rebate is 25% for a residential property sale and purchase. In order to receive the 25% rebates, the home sale and purchase transactions must take place within six months of each other. Please consult a qualified tax professional for advice on tax implications from receiving a rebate. Home Rewards Group Inc. is not affiliated with Logix.

NMLS ID 503781