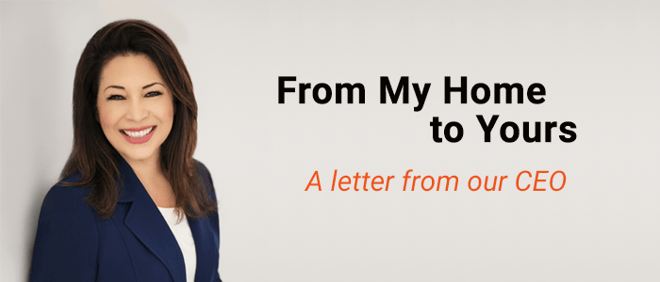 On behalf of each of us at Logix Federal Credit Union, I hope that you and your loved ones are safe and healthy.
When the pandemic first took hold, our leadership team and I tried to anticipate what life would be like for you, our Logix members. We immediately took steps to ensure we could continue serving you during this unprecedented crisis. This was a challenge since, like many Americans, many of our employees are working from home.
We quickly introduced safe and healthy practices in our branches, provided a plethora of information on our website and improved convenience through our remote channels. We wanted all of you focused on remaining healthy instead of worrying about the safety of your deposits or worrying about making your next mortgage payment, in the event you were financially affected. We created multiple relief options to assist you during this difficult time and many of us, including me, had several opportunities to personally connect with many of you.
When I provided my direct phone number to thousands of members in a letter about our safety and soundness, I wasn't expecting to receive many calls. You proved me wrong, with dozens of you reaching out to me personally to share your concerns, requests and compliments about Logix and our staff. I am so grateful for these opportunities to connect with you. During these calls, I got to know you better and have been forever moved by your stories.
I was especially moved by one member, an elderly Lockheed retiree and Burbank resident, who was concerned about her branch closing down temporarily. She needed to know how she would be able to deposit a check she was expecting but mostly, she wanted to make sure that the branch staff was healthy and that she would be able to see them again. I also spoke to a long-time member who needed to withdraw enough cash to weather this storm but wanted to avoid crowds and ATMs. I was able to arrange an appointment for him the next business day to fulfill his request. I spoke to many of you who wanted to know if your stimulus payment was deposited or whether your beneficiaries on your account were up to date. One theme was consistent during these calls: that you consider Logix part of your family. Hearing this time and time again was heartwarming and a good reminder of why we are here for you.
Your concerns, your needs and your stories have helped shape our strategy for operating during this time:
Branch Access. You are the reason why we kept many of our branches open and reopened a few that had been closed. You told us you needed face-to-face opportunities for the most critical of your financial needs. We have procedures in place for the health and safety of our members and employees. Our branches are cleaned thoroughly with sanitizing products each day. This month, we will begin opening more of our branches as our staffing levels normalize.
Remote Access. You are the reason we made remote access more convenient. For those of you who remain hunkered down in your homes and want the reassurance that your funds are safe and available, we are virtually here for you. We provided a guide to

remote banking services, increased check e-deposit limits on our mobile app and increased daily withdrawal limits at

ATMs. Our

Financial Services Officers

remain available by phone for new mortgages and other financial needs.
Hardship Relief. You are the reason we instituted convenient access to assistance with your loans and are waiving many fees. We will continue to be here for you to help you with your needs. Please call us or initiate a request for help

here.
The history of credit unions is a history of partnership, with employees and members all invested together in mutual challenges and success. In previous communications with you, I have written about our financial strength to reassure you that Logix is one of the healthiest and strongest financial institutions in the nation with more than double the regulatory well-capitalized level required to protect your assets and provide the kind of support you expect from us during a crisis and beyond.
This communication is about a different kind of fortitude—a strength of spirit and character that is demonstrated daily by Logix members and our employees. This kind of strength combined with our financial strength will allow us to emerge even stronger as we look forward and prepare for our "new normal".
We remain committed to helping our members thrive. Please keep your stories coming by emailing TellUsYourStory@lfcu.com. Tell us how we can help you. That's what we want to hear. Your financial needs are the basis of how we make decisions at Logix.
To the members who have personally expressed gratitude for the service they received from staff and told me that Logix is like family to you—I am grateful for your continued trust in us. My hope for you and your loved ones is that you remain safe and that together we see the other side of this crisis soon.
With much appreciation,

Ana Fonseca
President & CEO