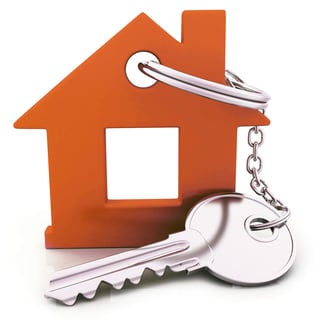 The decision to purchase a home brings about many thoughts and conversations about what to buy, where to buy, what we can afford, and where to start. While it is one of the most exciting times in your life, buying a home can also cause an overwhelming stress of the unknowns. You balance out the nostalgia you've built for the home you spent most of your youth in and what you want your dream home to be. If you're like me, after deciding to purchase a home, you immediately dive into Pinterest to pin every appealing homeowner tip, while forgetting that there is a whole home-buying journey that takes you from applying for a home loan to earning the keys in hand.
Logix Simplifies the Process

That's where your credit union comes in. Logix will get you into your home while relieving you of the stress of figuring out all the intricate details (Pinterest, here I come!). Our goal is to help you meet homeownership bliss quickly and efficiently while creating a meaningful home-buying experience along the way.
Whether you choose to apply in person at one of our branches, on our website, or by phone, you'll be matched with a Logix Loan Officer who will be there to listen to your needs and identify the best mortgage product to help you reach your homeownership goals. Our lending team excels at keeping you informed every step of the process, never leaving you to wonder when your home will close.
Speaking of the process, see this guide for highlights on the seven stages of the home-buying journey. It was prepared so you can continue keeping your eye on the prize.
Mortgage Products to Complement Your Needs
Now, before we get to poppin' champagne, we understand there isn't a one-size-fits-all mortgage loan. Let's further explore some of our mortgage product options and the mortgage perks we have available.
80-10-10 - Perfect if you don't want to pay PMI
80-10-10? Those just sound like numbers. It is true, but they are important numbers. Our new 80-10-10 Mortgage program may be ideal if you are ready to apply for a home, but don't have a large enough down payment to avoid Private Mortgage Insurance (PMI). The 80 refers to 80% of the home value that the first mortgage will cover. The 10 is the percentage which will be covered by a second mortgage. The final 10 refers to a 10% minimum down payment requirement.
7/1 Interest Only ARM - Perfect if you need low monthly payments
Again with the numbers! Yes, but for good reason as our 7/1 Interest Only ARM (Adjustable Rate Mortgage) is a great option for those looking to own a home for lower monthly mortgage payments and which could lead to more cash on hand for other important life decisions. This mortgage program offers the ability to make interest-only payments for the first 10 years of the loan. The interest rate will remain unchanged for those first 7 years, after which, the monthly payments will include both principal and interest and the interest will adjust annually.
10/1 ARM - Perfect if you crave a lower rate
Before there was the 7/1 Interest Only ARM, there was our 10/1 ARM. In similar fashion, this mortgage program's interest rate remains steady for the first 10 years of the loan and then adjusts every year thereafter. But, unlike the 7/1 Interest Only ARM, you pay off equity each month with your payment. And, the interest rate will never increase more than 5% over the life of the loan!
5/5 ARM - Perfect if you're looking for a low down payment
I've always said three ARMs are better than two. Our 5/5 ARM is another way to get into your home, while saving some cash. How? With the option of a down payment that is as little as 3%! In addition, the mortgage rate will only adjust once every 5 years and no more than 5% over the life of the loan.
Fixed Rate Mortgage - Perfect if you want a worry-free rate
For those seeking a steady "interest rate" relationship over the course of the mortgage loan, our Fixed Rate Mortgage option is the way to go, covering loan terms from 10 to 30 years. Talk about relationship goals.
Jumbo Mortgage - Perfect if you've found that one-of-a-kind home
Our Jumbo Mortgage program is an ol' reliable with three loan tiers to fit the dream home loan limit you need. With jumbo loans of up to $2,000,000, this jumbo loan offers fast funding and a down payment as low as 5%. Bring on the moat!
Additional Logix Mortgage Perks
Buying a home is dreamy, and we offer some additional perks to further enhance your home-buying journey:
Up to $2000 off closing costs
3% down payment options for 1st time homebuyers
A .25% mortgage purchase discount for our 30-year fixed mortgage
A $2000 25-day funding guarantee
$500 satisfaction guarantee
We're ready to offer the service and care that will get you to your homeownership goal. If you would like to research the home-buying journey further, please feel free to call us at (800) 328-5328 or visit our online mortgage center for additional mortgage resources and videos.
Congratulations on beginning your home loan search. We hope you enjoy the journey and have many memorable moments in your new home. *clink clink*