Year after year, reports of debit and credit card fraud and associated financial losses continue to rise. As scammers become more skilled and sophisticated with their schemes, individuals need to enhance their digital security. So, how do you stay ahead of the game, you ask? Well, with the right knowledge and tools, of course. One powerful weapon is the ability to freeze or unfreeze your card using the Logix Mobile Banking app.
First things first, you'll need to search for "Logix" and download the free* app from the App Store or Google Play. After downloading, simply register as a new user. You'll be asked to enter in your Logix account number and last four of your social security number. If you are already enrolled, simply sign in by entering your username and password.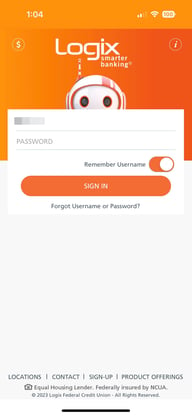 Once logged into the app, the cards associated with your account will be displayed under the "Manage Cards" section. Swipe left or right to view any additional account cards. Locate the card that you'd like to freeze (or unfreeze), then simply tap on the "Freeze Card" option to enable it. Just like that!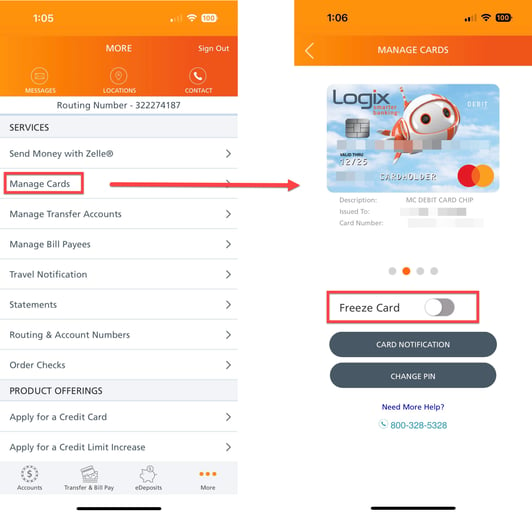 Card fraud can be a distressing experience, but with the right knowledge and tools, you can protect yourself and take immediate action if needed. The Logix Mobile Banking app offers a wide range of features to enhance your financial management. In addition to freezing/unfreezing your card, you can conveniently deposit a check on the go, change your PIN, and even apply for a credit card limit increase.
Download the app today and check out the Smartlab for more tips & tricks.
-------------------------
*There is no charge assessed by Logix Federal Credit Union when you download the Logix Mobile Banking App, but mobile service provider data rates and fees may apply. Please contact your carrier for details. App Store is a service mark of Apple Inc. Google Play and the Google Play logo are trademarks of Google LLC. Logix Federal Credit Union is not affiliated with and is a separate entity from Apple Inc., and Google LLC.
Mastercard is a registered trademark, and the circles design is a trademark of Mastercard International Incorporated.
Please contact Logix at (800) 328-5328 or visit www.lfcu.com if you have any questions about this topic or would like to consider opening an account.
Logix Smarter Banking is a registered trademark of Logix Federal Credit Union.